GUIDED TOUR OF Montalcino and the abbey of S. Antimo
Montalcino and the abbey of S. Antimo
This itinerary explores the south of the Province of Siena
We'll drive up to the town of Montalcino, 564 meters above sea level with a splendid view of the surrounding landscape. There, we'll visit the imposing 14th-century fortress, a jewel of military architecture that became the Sienese Republic's last defense in 1555, prior to its inevitable fall. We'll stroll through the streets of the historic center, and art lovers can visit the lovely Civic and Diocesan Museum.
Heading down into the valley below Montalcino, we'll visit the evocative Abbey of S. Antimo, a well-preserved example of Romanesque architecture, where the monks still practice Gregorian chanting.
Wine lovers won't want to miss a visit to a producer of the celebrated Brunello di Montalcino, often defined as Italy's finest wine.
Map tour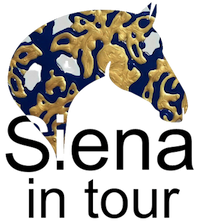 Information request
For prices, you can contact me at e-mail info@sienaintour.com or fill out the form; costs may vary based on group size, duration of tour and type of tour chosen.
There are special offers for packages of multiple days of guided tours. In the case of cancellation less than 24 hours in advance or no-shows, the entire sum agreed upon will be due.